Version 19 Software Released!
In 1994, the first STEP CAD interfaces changed how companies did business by exchanging full-fidelity brep solid geometry. In 2021, the next generation of STEP is producing intelligent product models with full associativity, which will again open new opportunities for business.
Our STEP Tools development solutions have powered commercial CAD, analysis, and visualization systems since the very start of this journey. Our latest release has the very latest for sematic tolerances, new geometry, STEP-NC manufacturing, and building information models, packaged in the fastest and most reliable libraries for making, using, and manipulating STEP, STEP-NC, IFC, and CIS/2.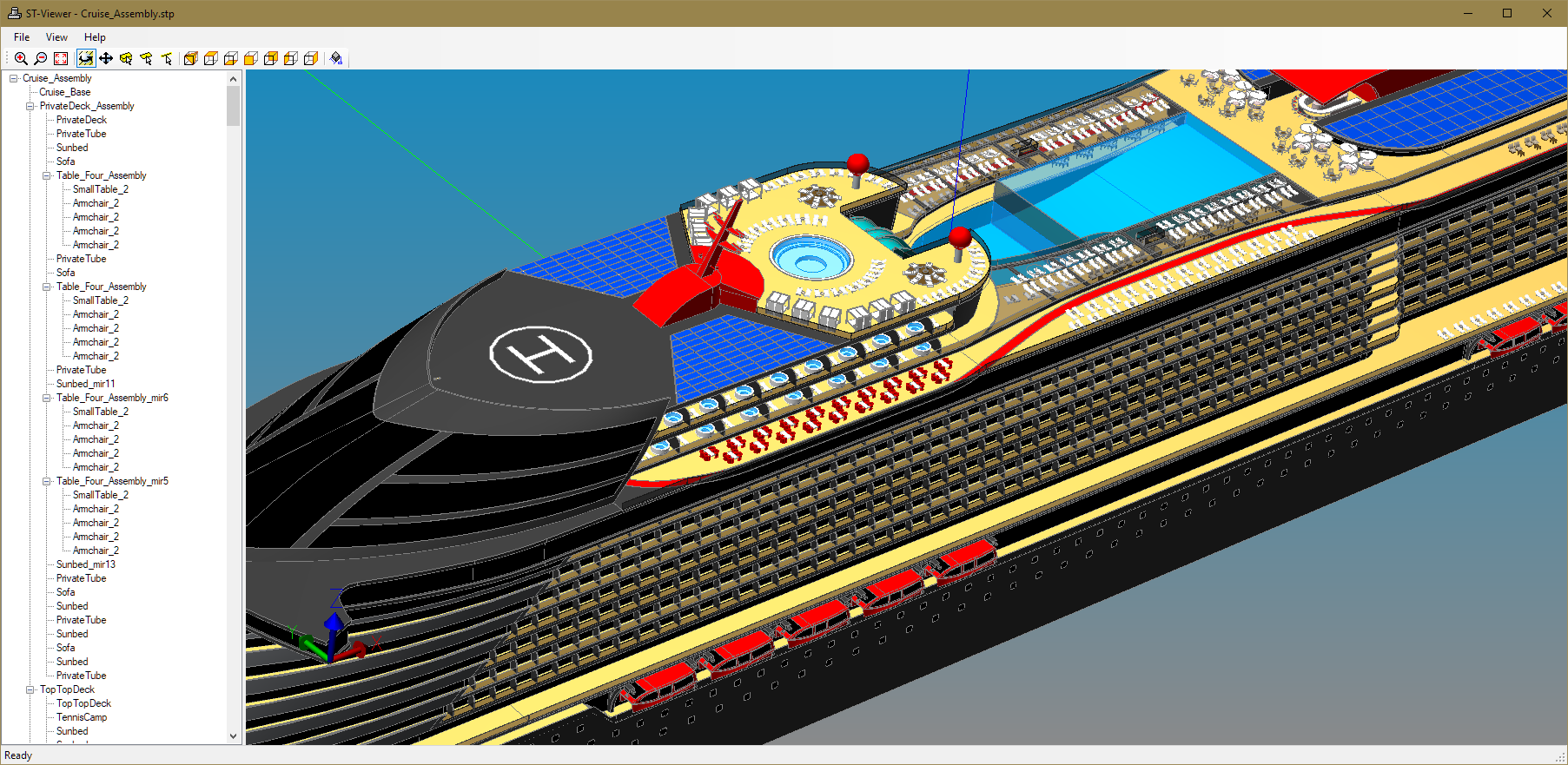 Meshing and Viewing a Cruise Ship Assembly.
original source, 40mb stpfile
Version 19 of ST-Developer adds:
Latest STEP models, with 400 new definitions for semantic tolerances, additive setup, tesselated models and point cloud data, as well as UUIDs, references, and UTF-8 strings introduced by the third edition of the STEP file format.
Latest IFC models, with IFC4x3 definitions for with continued automatic migration of older data through IFC4 and IFC 2x3.
Modernized OpenGL graphics for very large STEP and IFC product models. View models an order of magnitude larger than the last release, up to multi-gigabyte sizes, with responsive motion, quick picking, transparency, and traceability across multiple reused parts.
Faster simpler meshing, particularly for splines. More types of geometry, offset surfaces, IFC4 trimmed breps and all swept profile types.
New assembly and shape indexes. Simpler and easier to find extensions for tolerance, assemblies, dates, units, placements, and measures.
New Apple M1 platform, Visual Studio 2019, GCC-7 on Linux, and the latest Xcode environment on Mac.
The release notes for v19 have much more information about the libraries and new features! Our knowledge of these standards is unmatched across the industry. Whatever your goal, we provide the tools that you can rely on to reach it.
Contact us to discuss how we can apply our software solutions to your specific needs!