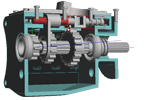 The STEP standards for design data are supported by nearly all CAD systems and deliver CAD geometry and assembly structure to the manufacturing supply chain.

The standards are now being updated to include tolerance and other PMI information. Use ST-Developer to build translators and solutions that work with both original and new, enhanced STEP data.
---
This DARPA-sponsored project is building standards-based interfaces for intelligent model-based manufacturing data, manufacturing simulation services, and a rich web interface for widespread deployment.
Expertise and Services