Service Pack One Released!
Service Pack One updates Version 18 of the STEP Tools development stack with the latest definitions for working with AP242e2, AP238e2, and IFC 4x2, plus improvements to the underlying libraries. The release notes have full details.
The ST-Developer is core technology for STEP CAD applications, particularly with the Second Edition of AP242, BIM applications for IFC and CIS/2, and Digital Thread Manufacturing applications using STEP-NC, MTConnect, and QIF.
STEP applications support the latest SMRL v8 definitions from AP242e2 and AP238e2 DIS ballots as well as improved matching for complex instance cases seen in practice. This includes the latest tolerance and PMI definitions, additive manufacturing setup, tessellated models, and 3D point cloud definitions. The STEP Explorer views the new semantic tolerances while new APIs create and read them.
The STEP Meshing library now supports offset surfaces, negative slope on cones, and better handles open loops and singularities in UV space. There are many API improvements for fine grain control of the faceting and access to the surface, uv trim polygon and solver. The mesh library also has code for writing STEP assemblies in the Additive manufacturing file format (AMF) and the 3D Manufacturing Format (3MF). Additional AMF/3MF support has been built into the ROSE Math library.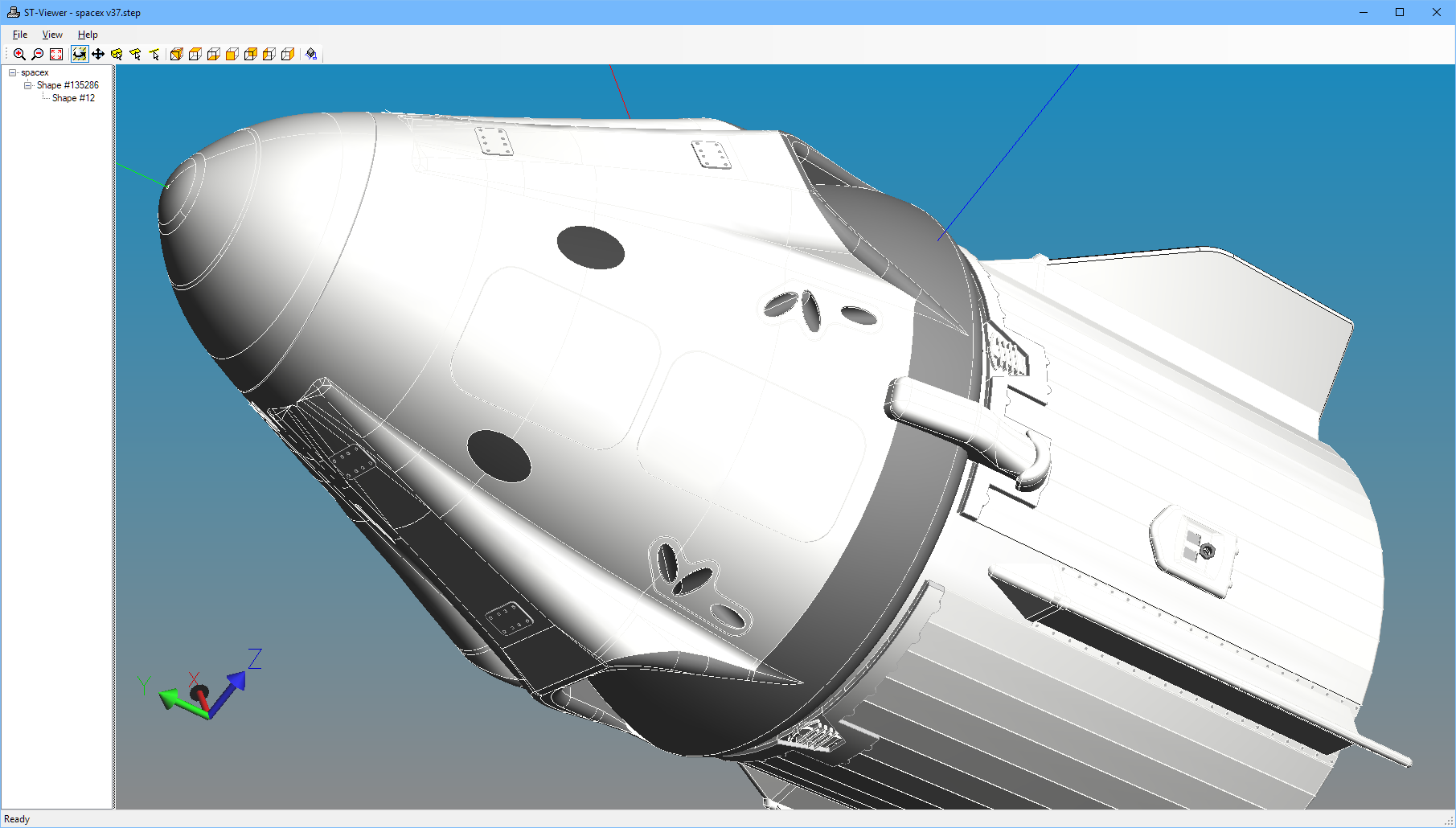 SpaceX Dragon modeled by Nick Gust
IFC BIM applications now support the latest IFC4x2, updated with several dozen new definitions for bridge construction and infrastructure alignment, along with improved automatic migration support for previous IFC versions, IFC meshing, and IFC-specific checking and browsing.
Digital Thread applications now support the latest STEP-NC AP238, along with all of the STEP AP242 tolerances. The advanced simulator, high-level .NET and Javascript APIs, and client-server interfaces are bringing Digital Manufacturing into production. Build machining programs, add tolerances, import models for workpieces, tools, and fixtures. Simplify interfacing with existing machine tools, while the material removal simulator calculates the result of machining as solid models.
Whatever your goal, we provide the tools that you can rely on to reach it.
Contact us to discuss how we can apply this stack to a software solution for your specific needs!