ST-Developer is a set of software tools to build, operate and maintain your STEP, IFC, CIS/2 and EXPRESS-defined tools, translators and databases. It contains programming bindings for C++, C, and Java, plus tools for testing data sets against verification rules and constraints, browsing through the contents of your data sets, building information models, and more. See the newest features in ST-Developer v15!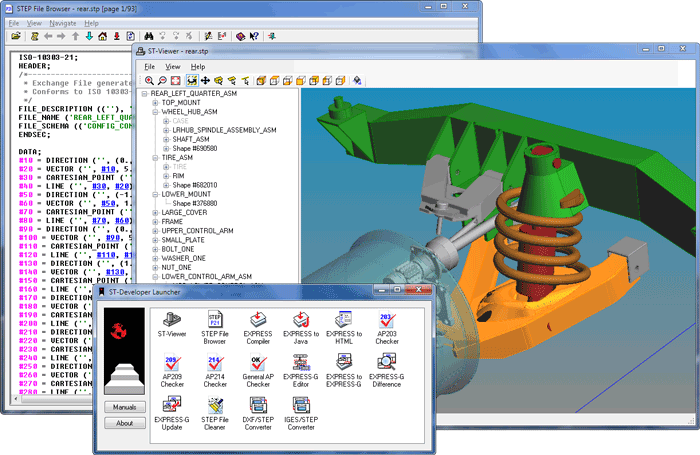 Programming Environments
ST-Developer ships with pre-built class libraries for STEP APs, CIS/2, and IFC. You can start programming immediately, just by linking against the appropriate library. The ST-Developer programming environments are:
ROSE C++ Library -- For demanding CAD and data exchange applications. C++ classes generated from EXPRESS schemas mean fast access, and strong compiler type checking for reliable applications. The ROSE library provides advanced object search and traversal features such as USEDIN, early and late-bound access, and detailed control over STEP physical file handling.

Several libraries provide additional capabilities, such as the Part 28 library for reading and writing XML, the Part 21 filter library for working on very large STEP Part 21 files out of memory, and the ROSE Log Window library for status messages in GUI applications.

ST-Developer for Java Library -- Using the EXPRESS compiler, you can build applications using Java classes. Strong compiler type checking helps to build reliable applications.
SDAI C Library -- Build applications using a small set of straightforward C functions to manipulate STEP data. No application protocol-specific structures or classes are used.
Conformance Testing and Editing Tools
View and browse STEP data sets then check for adherence to the STEP Application Protocols using these tools. The checking tools evaluate EXPRESS constraints to verify that a data set is correct.
Information Modeling Tools
These EXPRESS tools process the STEP schema definitions and produce useful things from them. The EXPRESS compiler checks schemas quite thoroughly and can generate C++ classes, SDAI data-dictionaries, and HTML. The EXPRESS-G tools construct EXPRESS-G diagrams from any EXPRESS information model and display, rearrange, and print them using a graphical editor.
EXPRESS Tools
EXPRESS-G Tools
File Conversion Tools
The file format converters transform data from systems that produce IGES or DXF files into STEP physical exchange files and vice-versa. These tools allow ST-Developer applications to mix IGES and DXF data with data described by other EXPRESS information models.
Project Tools
Windows versions of ST-Developer contain the ST-Developer Control Panel and Microsoft Visual Studio wizards and plug-ins to speed application development. All platforms contain the extclass. We have provided several additional tools to make the management of these classes somewhat easier.